StrongStart BC early learning programs provide school-based early learning services for adults and their young children, aged birth to five, at no cost to families.  Both children and adults can benefit from StrongStart BC early learning programs – children have access to high-quality learning environments and benefit from social interactions while the adults who accompany them learn new ways to support learning, both at the program and at home.
Qualified early childhood educators lead learning activities, including stories, music and art to help children get ready for success in kindergarten.
Parents and caregivers attending StrongStart BC programs can expect to participate in organized sessions like story time, art and play activities. 
---
Who Can Attend?
The programs are designed for 0-5 year olds.  Parents or Caregivers remain with their child(ren) at the Centre. Unfortunately no  drop-ins allowed  until further notice.
How do I sign up?
Step 1 Register
Please register all children, returning participants will not need to re-register. If you are unsure if your child is registered, please contact your StrongStart Facilitator. If you wish to cross-register so you can attend a different location, please contact your facilitator. Please register at: https://sd33.bc.ca/registration. You will receive an email from your StrongStart facilitator when your registration has been entered and is active. Please wait to receive this email before you "sign up" for a session (approx 1-2 days).
Step 2 Sign Up
If previously registered please sign-up for a session. Follow links provided below, next to each site location. Should you need to cancel, please do so online so another family can access your spot.
Step 3 Read Health and Safety Protocol 
Familiarize yourself with our Health and Safety Protocols listed below
How will the program look given COVID-19 Protocols?
You can still expect fun 'learning through play' experiences, art explorations, story-time and community connection in the following set-up:

1hr15min sessions (times/days vary by site)
4 families per session (a family = one adult with up to 3 children from the same family bubble)
adult or caregivers will be required to wear a mask, children will not
open to pre-registered children
online sign-up required
families can attend 1 session per day, and up to 2 sessions per week
outside programming may be an option in the future at some locations 
How can we make the most of our time?
eat before you come
use the washroom before you come (washroom access will be available if needed)
dress for play (comfy clothes that you don't mind paint spilling on are always best)
limit belongings that you bring into the centre
arrive on time and plan to stay for the full session (we need to enter and exit the building as a group, so it's not feasible for facilitators to accommodate different times)
please note that school playgrounds will not be available for use, so it's a good idea to scope out the nearest public park if you plan to extend your outing  
Check sites for up to date operation times. Note that all sites are closed on Pro D Days, Winter, Spring and Summer Breaks.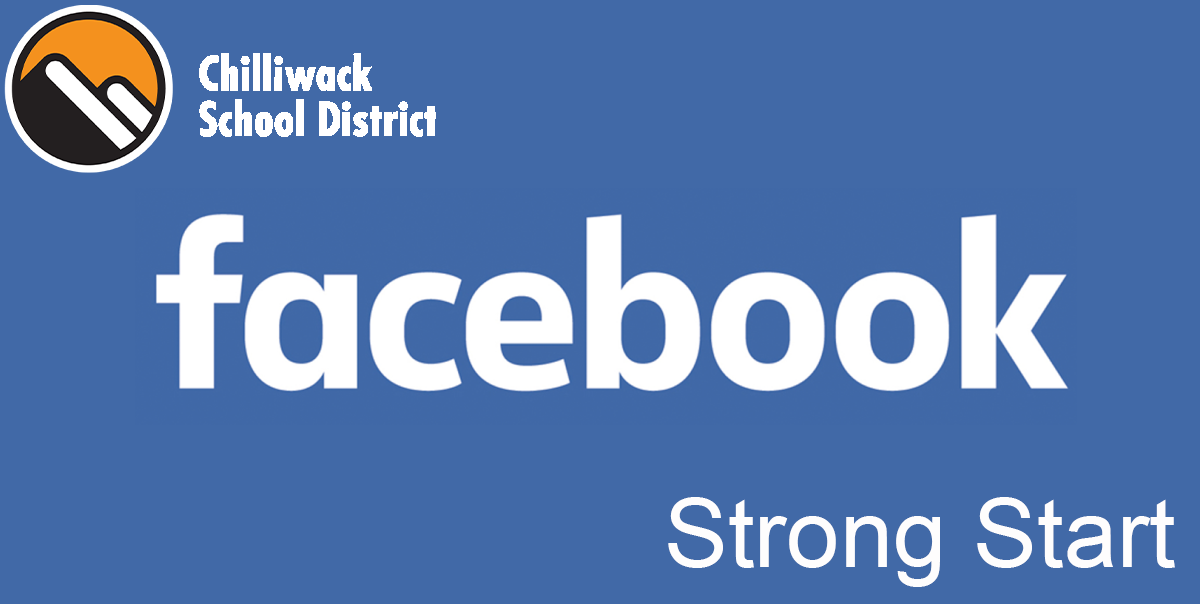 Please feel free to visit them at:
School
Days
Hours
Address
Sessions
Email
Bernard Elementary 

Mon-Fri 

8:35-9:50 & 10:15-11:30
45465 Bernard Ave
SignUp
Cultus Lake Community 

Tu & Th:

8:15-9:30 & 10:00-11:15
71 Sunnyside Blvd.
SignUp 

Little Mountain Elementary 

Mon-Fri: 

8:30-9:45 & 10:15-11:30
9900 Carleton St.
SignUp 

McCammon

Traditional

Mon/Tu/Fri

Wed/Th 

8:15-9:30 & 10:00-11:15

10:00-11:15 & 1:00-2:15

9601 Hamilton St.
SignUp 

Central Gateway

Mon- Fri: 

8:30-11:30
9435 Young Rd
SignUp 

Strathcona

Elementary

Mon/Wed/Fri: 

8:40-9:55 & 10:25-11:40
46375

Strathcona

SignUp 

Unsworth Elementary

Mon-Fri:

8:30-11:30
5685

Unsworth

SignUp 

Watson Elementary

Mon-Fri: 

8:35-9:50 & 10:15-11:30
45305 Watson Rd.
SignUp 
Our programming has been designed in accordance with provincial health and safety guidelines and as you can imagine, things will look different this year due to COVID-19.
StrongStart programs will be reduced to two shorter sessions to accommodate physical distancing, cleaning and disinfecting protocols. The number of families that can attend has been reduced in order to help maintain safe physical distancing. Drop-in attendance has changed to an online sign-up system and pre-registration will be required. Families will wait at four clearly marked designated spots that are physically distanced outside of the building. They will line up and wait for the SS facilitator to greet and guide them to the SS Centre. The lineup times will be staggered from the school's drop-off times to ensure physical distancing is possible.
 
Adults will be required to maintain 2m physical distance, children will be able to interact with each other, but physical contact will be minimized.
 
SS Facilitators will greet families and mark-off the reserved/confirmed participants before they enter the room. SS Facilitators will ask participants if they have any symptoms related to COVID-19, awaiting COVID-19 test results, have travelled or had contact with people with Covid-19. This list will be provided to facilitators for easy reference. Prior to arrival, please review the Daily Health Check, to ensure all family members attending have passed the daily health screen.
 
Strollers/Buggies will be parked on the designated spots outside or in the marked area of the classroom depending on the centre, providing there is room inside.
 
 SS Centres with no direct exterior door, facilitators will lead the participants to the SS Room
 
When walking through the school hallways, and while in the centre, adult or caregivers will be required to wear a mask, children will not.
 
Upon entering the classroom there will be a hand washing/sanitizing station. With most centres having a sink, families can walk directly to the sink to wash hands, waiting at designated spots.
 
All items that are used will be washed and sanitized daily. 
 
We will not be able to provide snacks or food at this time. No outside food will be allowed in the centre. Water, coffee and tea are allowed as long as they are in a spill proof container.
 
Late arrivals will not be accepted due to the Health and Safety Screening protocol